• OFFERING IN-PERSON AND VIRTUAL LESSONS •
Heidi Skok WILL HELP YOU:
TRANSFORM YOUR VOICE
Beginners
DEVELOP YOUR VOICE
Develop a foundation for your voice in the correct range for your voice. New singers learn to use Heidi Skok's RESTTM Technique and can begin to advance with little or no prior music theory/knowledge.
Pre-Pro Singers
FIND AND BUILD YOUR VOICE
Build a solid vocal technique in the correct range and with a chest-voice foundation using tools from Heidi Skok's RESTTM Technique. Gain real-world performance skills and develop the talent needed to become a PRO!
Professional Singers
EXPAND YOUR TECHNIQUE
& TARGET ISSUES
Add to your own technique with Heidi Skok's RESTTM principles that allow you to pinpoint issues and solve them. Sing comfortably and achieve your singing and vocal performance goals.
LOWER VOICES
AND VOICE TYPE TRANSITIONS
Heidi Skok specializes in lower female voice types and female voice type fach transitions from Soprano to Mezzo-soprano and Contralto.
MATURE SINGERS
IMPROVE YOUR VOICE AT ANY AGE
Heidi Skok motivates singers over age 30 to overcome industry age barriers. She also specializes in working with mature voices, age 60+ to achieve their singing goals. Her RESTTM Technique is effective for singers of all ages.
Voice Instructors
LEARN NEW TEACHING TOOLS
Learn new tools from Heidi Skok's RESTTM Technique to use with your own teaching method, improve your vocal ability and polish-up your performance skills.
Public Speakers
SPEAK WITH CLARITY AND STRENGTH
Professional orators, voice actors, pastors/ministers, lawyers, professors, public relations, on-air voice talent and news reporting, podcasters, professional coaching, counselors
VOCAL PROBLEMS OR INJURY
RESTORE YOUR VOICE
 Recover from vocal strain or injury related to illness, overuse, or misuse. Heidi Skok's therapeutic vocal program and RESTTM Vocal Technique can help to restore damaged singing and speaking voices. For details contact heidiskok@skokstudio.org
BIG VOICES AND BELTING
BE HEARD OVER THE ORCHESTRA
Heidi Skok's RESTTM Vocal Technique is well suited to the needs of classical "big" voices, in additon to providing a healthy method for powerful belting in any genre.
Heidi Skok has been teaching since 1995 and is a 12-year veteran Metropolitan Opera Artist. Ms. Skok has helped hundreds of singers find and build their voices over the years, and to reach their own goals of becoming professional vocalists.
In addition to being an accomplished international classical music vocalist, Ms. Skok is also a pop and contemporary music singer and works with singers of any genre.
Using her own transformative REST(TM) Vocal Technique, Ms. Skok teaches singers to understand their own voices and prepares them to meet the demands of being a professional singer in today's world.
Please visit Heidi Skok's vocalist website at heidiskok.com for more information about Ms. Skok's recent and upcoming performances.
"In-Person" Voice Lessons
Skokstudio offers private individual IN-PERSON Voice Lessons at our GREATER CLEVELAND AREA (MENTOR, OH) studio location.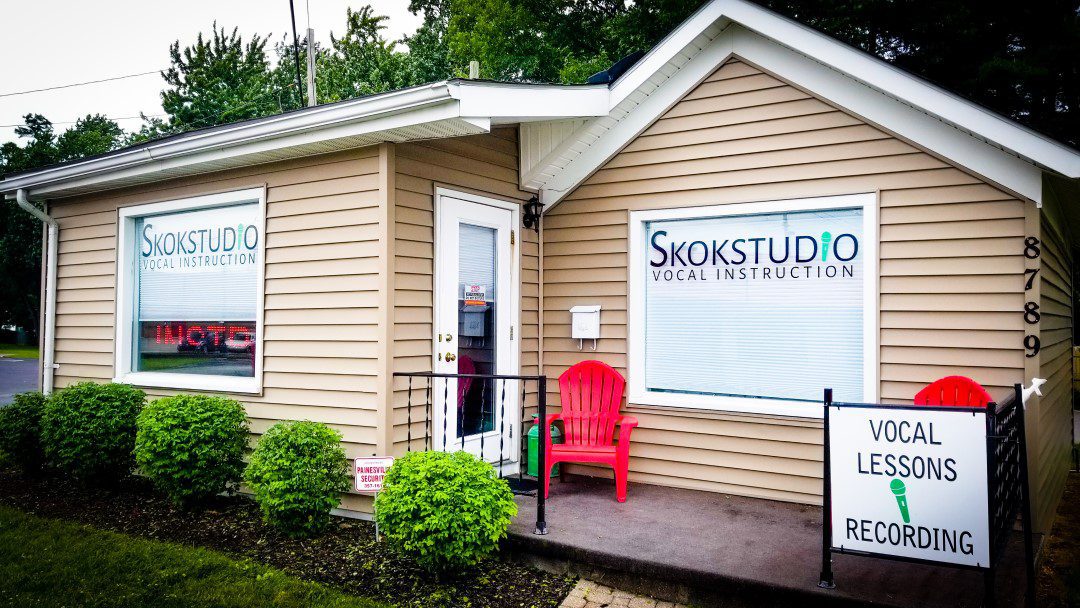 SPECIAL BONUS SERVICES:

Skokstudio IN-PERSON Voice Lessons can also be

video recorded upon request

live in the studio by the Studio Technology Manager, and sent to you to use for practice between lessons
Students learn proper microphone technique with our professional studio sound system
"Virtual" Voice Lessons
Our VIRTUAL Voice Lessons at Skokstudio are taught online using Zoom, and are streamed live from our studio located in Mentor, Ohio.
Skokstudio works to deliver the best possible audio and video quality for online "virtual" vocal lessons. Our studio has been equipped with a professional audio/video system which is actively maintained by our on-staff Studio Technology Manager. Even a random technical issue that may happen on the student end can be quickly corrected with immediate support from our helpful and knowledgeble on-staff Studio Technology Manager. Never lose lesson time due to computer problems! Our online students are amazed at how well they see and hear Skokstudio lessons and classes.
Our local In-person students are also given the option of scheduling an online lesson for the sake of time management, or due to weather, health, or transportation issues.
All Virtual Lessons are also recorded and sent to you for practice between lessons!
Why
"Virtual"
Singing Lessons?
Super convenient for today's busy schedule
Save transportation time and extra fuel expense! Never miss a lesson due to bad weather, heavy traffic, or if you woke up with a light case of "the sniffles"! Take your lesson from the convenience of home even when the drive to Mentor, Ohio is not all that far but you still just can't make the trip during studio hours for your own reasons – life is busy today.

Sounds like you're there in person!
Our studio's video conferencing system has been optimized for Zoom and our students will tell you that their lessons sound incredible! The studio system is operated and maintained by Skokstudio's own on-staff Technology Manager, so instructor and students always hear and see each other with crystal clarity. We can corrrect any problems if they ever happen during a lesson and our Technology Manager even helps to get you set up on your end!
(High-speed Internet connection, home computer/laptop with USB microphone and webcam are required.)
Connect anywhere in the world
Take a private voice lesson with Skokstudio from practically anywhere in the world over Zoom. Travelling? You'll never miss a lesson while on the road!
What's Special About Taking Lessons at
Skokstudio?
Knowledge and Experience
Heidi Skok has in-depth vocal experience, having started as a low-voiced Belter as a child, but then trained and performed as a Soprano before moving to Mezzo-soprano, and is now a Contralto. She has helped singers to switch ranges, to recover from vocal nodules, and to build a strong, healthy vocal technique.
Preparation to Sing
Skokstudio helps singers to identify and prepares them to advance toward their own individual vocal development goals with a solid vocal technique that can be applied to any music genre. We also help you build the tools beyond the voice by providing opportunities to perform and record with our partner organizations!
Teaching Style
Teaching pedagogy and philosophy are based on the fundamentals of classical training and the work of the great German soprano Lilli Lehmann. Heidi Skok has implemented her own highly effective and creative approach to Lehmann's work in her RESTTM Vocal Technique Program which she uses to help singers build and transform their voices.
Singer MIndset and Motivation
Heidi Skok teaches compassionately, with direction and support for each individual singer. Each lesson supports and lifts up the singer's mindset, the most important thing for a singer.
In-house Virtual Tech Support
Never have a lost online lesson due to a technology issue, with our on-staff Technology Manager who makes sure that eveything is working and can correct problems even on the student end! 
Learn How To Perform Online In Today's Online World
Skokstudio and Heidi Skok prepare you to be able to present high-level concerts online to an international audience.
Teaching For Real Life
Heidi Skok teaches the concepts of her "Resonance Sensory Tactile" (RESTTM) Technique by using her special "REST Toolkit" of additional auxilliary items that she has collected and gives to her students. The Toolkit items are used to illustrate technical concepts of the REST Technique by way of "feeling" and sensation while singing, and does not require the ability to read music or knowledge of music theory. The REST Technique not only makes it easy for brand new beginners to begin to improve quickly, but more advanced singers can rapidly transform their voice, get "un-stuck", and refine their sound. 
Flexible, Easy Self-Scheduling
Students and Parents have the ability to schedule and reschedule their own lessons 24/7 online using Skokstudio's Acuity Scheduling online calendar.
Skokstudio is additionally supported by a dedicated on-staff Studio Manager who quickly helps resolve any student scheduling issue.
Membership Programs For Every Level of Development and Flexible Packages To Fit Every Budget
From New Beginner to Advanced Professional, with multi-lesson package sizes available that allow for faster or slower development rates.
Save Money
Singers don't have to spend tens of thousands of dollars to attend a college or university conservatory, going into debt. Skokstudio offers you affordable vocal instruction taught by the most highly qualified Master Instructor who has served on many voice faculties in the US, at both college conservatories and universities.
Ms. Skok understands the conservatory/university curriculum and setting. Only pay for the education you need, not for the additional repetition of your high school classes plus expensive campus lodging!
"Heidi Skok's gifted ear as a diagnostician and ability to communicate complex technical ideas in simple, concise ways make her an ideal teacher for singers of all levels. As a young artist, her wide knowledge of repertoire, along with her resonant technical approach, and belief in my talents – helped steer me to the next level of my career.
Her passion and energy in the studio is unmatched, working with her you will fulfill your potential! Her teaching has truly changed my life."
"Heidi revolutionized my singing. Drawing from her experience at the Metropolitan Opera and other institutions, and from the training she received from some of the world's best, she has brought my singing to a place I never could have imagined. My technique has never been more sound. She knows the voice. She has an innate gift for hearing potential in a voice and sensing where it most naturally wants to be.
She's helped me to understand and know my voice in a way no one else ever has. She teaches the importance of letting the character envelope you and the piece, that telling the story and communicating with your audience should be paramount in performing.
Beyond all of this, Heidi has been a huge support in helping me achieve my goals and dreams. She has been in my corner of the ring from day one. She listens to her students – their concerns, frustrations, goals, ideas, etc. Her studio is gratitude focused and always positive. She nurtures an environment where her students can feel safe to try new things and to share exactly what they feel.
I cannot sing Heidi's praises enough. She is a diamond in the rough, a true gem, and I will be forever grateful for all that she has done for my voice, but more importantly for me as a singer, and student, and a friend."
"I studied with Heidi for several years during my formative years as a young singer. I could not have asked for a more supportive and knowledgeable voice teacher. Heidi helped me establish a solid and healthy vocal technique that has been vital in my career today.
Heidi has a huge amount of knowledge, energy, is extremely patient and kind and goes above and beyond in helping singers find their true voice. I cannot recommend her enough and any singer would be in safe hands with her."
Read More
Student Success Stories
(Click Here!)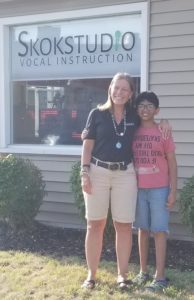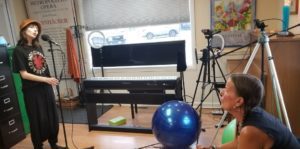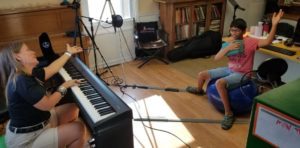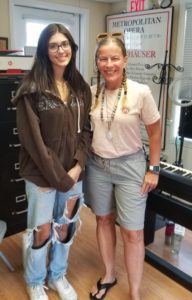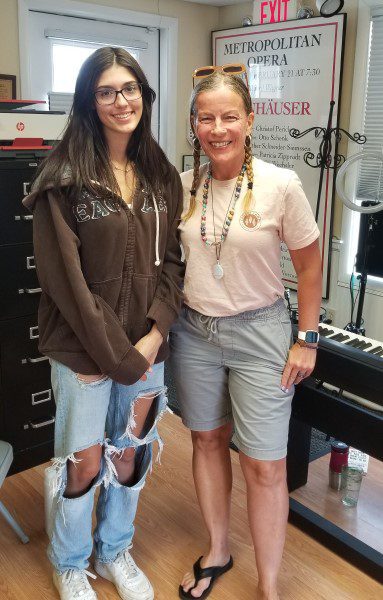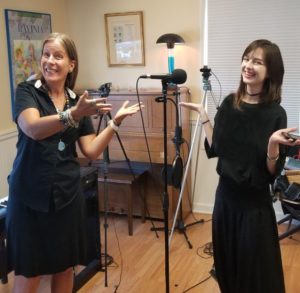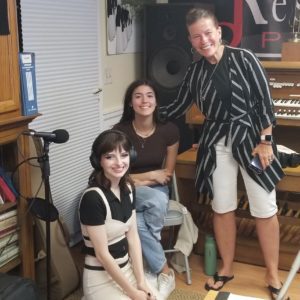 Sign up for a Welcome Lesson
and

Begin Your Own Vocal Success Story



Take an introductory 

Welcome Lesson as the first step to becoming a student at Skokstudio

Skokstudio welcomes dedicated voice students of all genres, from all walks of life, and from all over the world, who are driven to sing and who are committed to doing the technical vocal work necessary to develop as a singer.
A Welcome Lesson may be scheduled either:

Virtually using Zoom *OR* In-Person at our Mentor, OH studio location.
Welcome Lesson
30 minutes @ $50.00
This 30-minute WELCOME LESSON is an initial PRIVATE INDIVIDUAL VOICE LESSON with Heidi Skok. A Welcome Lesson is the first step to become a student at Skokstudio. This is an opportunity to share your vocal goals and background with Ms. Skok, and will be conducted as a standard Skokstudio "Technique" lesson. This lesson is offered at a special 33% discount off of the standard Pro-Singer individual lesson hourly rate.
During the Welcome Lesson, Ms. Skok will identify your voice type and range after listening to your current vocal production. She will also introduce you to her teaching method, including breathing exercises to increase breath support and vocal exercises from her REST(TM) vocal technique, and will then custom-tailor a vocal development plan for you at Skokstudio.
Additionally, your lesson will be video recorded and sent to you both if taking a Welcome Lesson virtually or In-person at the Mentor studio.