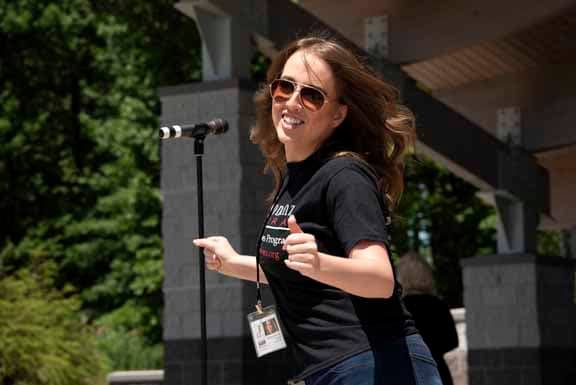 Learn about the training programs that we offer.
Private voice lessons at Skokstudio are reserved for currently Enrolled students. Lessons are scheduled in regularly recurring weekly time slots that are scheduled at the same time each week. Depending on the intensity of study, privately attending students must take either one or two lessons per week, totaling a four to eight total hours of regular lessons each month.
Private Individual Lessons
Private individual (1-on-1) lessons are only conducted online via Zoom in 30-minute and 60-minute sessions, with a minimum requirement of four hours of lessons per month. Students under the age of 18 are permitted to schedule no more than one 30-minute lesson in a single day.  Learn More>
Private Group Lessons
Group lessons can be scheduled by any Enrolled student over the age of 18 who designates themselves as a "Group Representative" for an entire group of Enrolled students who all collectively desire to be trained together.  This type of private lesson is for members of singing groups, choirs, and students who intend to sing together while performing. Group lessons can have a minimum of 2 and a maximum of 5 students and are held as one-hour sessions.
Open Registration
Skokstudio also offers vocal instruction to students who have not enrolled. Open Registration vocal instruction is conducted under several formats of Lessons, Classes, Workshops, Retreats/Camps, or Intensive Training. These instruction formats are sometimes offered in cooperation with other partner arts organizations such as Resonanz Opera and The Center For Rock Research, and are pre-planned, scheduled, and announced by Skokstudio throughout the year. Individual students who are interested may then independently register to attend, up to the maximum number of attendees designated for that group. These types of instruction can occur in a single day, in a span of several days, or may happen over a series of consecutive weeks. Open Registration Lessons, Classes, Workshops, Retreats/Camps, and Intensive Training group lessons may require an audition or evaluation to determine a student's suitability for participation.
Open Registration Lessons
Individual private lessons by Open Registration are only available to current professional artists who cannot commit to Enrollment in Private Lessons due to their performance schedule and to established professional performers who have an upcoming audition.
Open Registration Classes
Open Registration Classes are open to singers of specific development levels and can have minimum of 3 and a maximum of 6 students. Classes provide a planned curriculum that requires all students to progress at a minimum pace together. Thus, some assessment of ability may be required prior to student participation in a class, as class offerings are typically targeted to an ability level. Classes do not typically require an attendee to have taken a vocal evaluation.  Find out about our current class offerings >
Workshops, Retreats, and Camps
These groups must have 6 to 12 students to run. These types of groups are larger in size than Class group sessions, and do not run for as long. The curriculum from these lesson types also often allows students to progress more at their own development speed and from different levels of ability. Assessment of student ability with an evaluation or student audition may sometimes be required. Workshops, retreats, and camps may be cancelled by Skokstudio for insufficient attendance.
Intensive Training
Intensive Training is also provided by Skokstudio through performance-based study programs offered by Resonanz Opera as vocal instruction and coaching for emerging and professional singers from across the country. Acceptance to open positions for these Intensive Training study programs are only by audition with Resonanz Opera. An Intensive Training Program has between 8 and 20 students per session, and a session will last two to four weeks and culminate in a public performance of a concert and/or a music theatrical production (such as an opera).
OUR CORE VALUES
DEDICATION • DRIVE • DISCIPLINE • ENTHUSIASM • PRACTICE