New Student Introductory Packages
Take a trial month of Online Voice Lessons and discover how Skokstudio can transform your voice!

20% Discount off the regular Enrolled Student Lesson Rate



NO REGISTRATION OR START-UP FEES

Free RESTTM ToolKit for All Students

and FREE Online Equipment Rental for Students who Enroll!

What do students get with this special promotion?
Start taking our highly engaging, truly effective, transformative private online singing lessons now at Skokstudio with a Welcome Package Discount of a 20% savings off of the Enrolled Student package price!
Limited-time promotional rate is $100/hr when purchased as one of the online lesson packages below, with lessons reserved at the same time for four weeks
Free Vocal Evaluation

 prior to taking the Welcome Package lessons to assist student awareness of their progress and challenges,

a $25 value
All lessons are recorded and made available to each student for practice between lessons
NO REGISTRATION START-UP FEE

to Enroll

for the first year

for students who then choose to Enroll in lessons after completion of the Welcome Package lessons, a $150 value!

Students who choose to Enroll also get a FREE REST™ Toolkit to welcome them to the first month of enrolled lessons, valued at over $50

Early Decision Bonus

: FREE Student Rental of the Enhanced Online Equipment Toolkit containing a microphone, headphones, and a pop-filter, including setup assistance from our Studio Manager, for students who choose to Enroll in lessons DURING attendance of the Welcome Package lessons
(See more details about the exclusive benefits of Enrollment at Skokstudio.)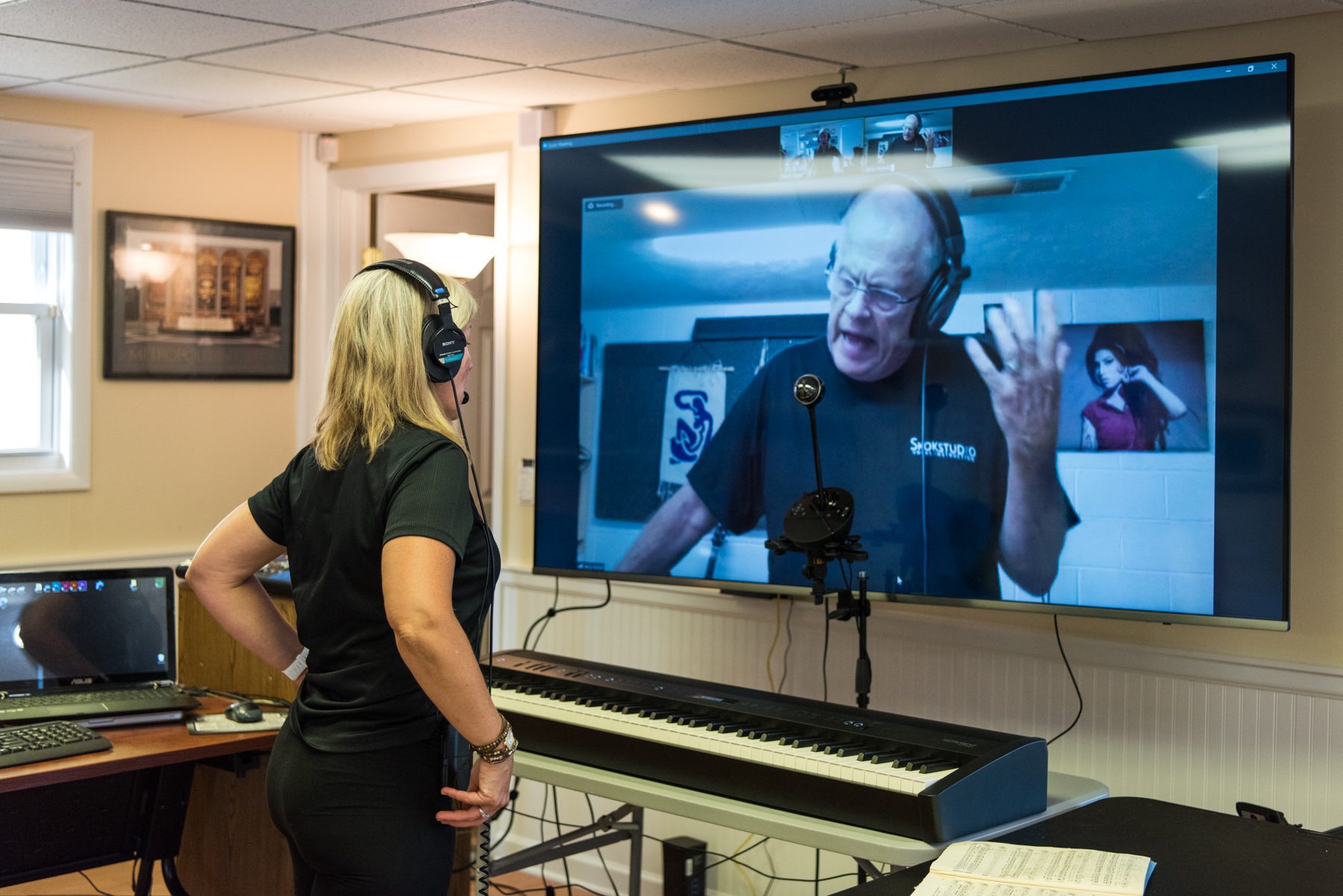 What will you learn?
All Skokstudio lessons are designed with a custom curriculum that matches each student's development level, challenges, and goals. Lessons are taught as either a Technical session or a Repertoire-building session, and may include:
Breathing exercises
Breath support exercises
Chest voice exercises
Head voice exercises
Mixing the head and chest voices
Genre specific repertoire and exercises
What will you need?
Students must have their own computer with Zoom installed, a webcam, and a high-speed internet connection.
For the best quality online voice lessons, Skokstudio knows students will additionally need an external USB microphone, a mic pop-filter, and wireless over-ear headphones. Skokstudio has carefully selected this equipment and conveniently bundled it all together as the Enhanced Online Equipment Toolkit.  We make  this available to students to purchase at retail cost, but also offer it as a free rental to students who make the decision to Enroll during this promotional offer.
 Students pay only the promotional lesson package fee in full at the time of signing up for the Welcome Package. There is no additional registration fee to start up and no agreement to sign to take advantage of this promotional offer. (Students who then Enroll in private lessons following completion of the Welcome Package lessons do sign the standard annual Enrollment Agreement to attend ongoing private lessons.)
How do you apply?
The Welcome Package of lessons must be taken in four consecutive weeks. Scroll down the page to take a look at our Welcome Packages of lessons.
Pick a lesson package that fits your development level and click the register button. You will then be directed to the Skokstudio Acuity Scheduling site.

At the Skokstudio Acuity Scheduling site, select a date and time to take your 

Free Online Vocal Evaluation

 and complete the short online questionnaire about yourself and your vocal background.

Next, you will checkout through a secure shopping cart, where we accept all major credit cards for payment.
Once you submit the form, you will receive email confirmation of the appointment reservation and we will be in contact with you in the next 24 – 48 hours.

Welcome Package (Technical Core)
Basic fundamentals of vocal technique with custom exercises. 
This package is designed for students who are early in their development as well as for pre-professional or active professional vocalists who are returning to singing. 
(30 min. of Technique training) x 4 weeks
2 Total hours of lessons
Students under 18, or with no prior voice lessons
Students 18+ who want to focus on development of strong vocal technique (without repertoire)

Welcome Package
Basic, Intermediate, and Advanced vocal technique with custom exercises.
Selected songs are worked on, both instructor assigned classical pieces, and songs chosen by the student in any musical genre that the student sings. 
This package is designed for the pre-professional or active professional singer who desires transformative vocal development and has identified specific repertoire they desire to learn.
(30 min. of Technique + 30 min. of Repertoire-building ) x 4 weeks
4 Total hours of lessons 
Students 18+ years old may take these as a single 60-min. lesson

Students under 18 take each 30-min session as a separate lesson each week